By Guest Blogger Rachel Sklar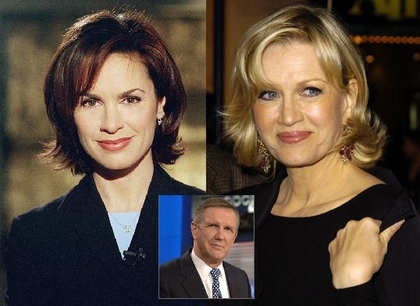 So! More on the Howie Kurtz book, perhaps you've heard of it? Reality Show: Inside the Last Great Television News War? Oh, yes, that one. Today Howie was on Good Morning America, talking to Chris Cuomo about the book (hat tip: TVNewser here, Howie's new blog here) but not, per TVNewser, about "the insider details of the book." That's not surprising considering that a third of the book is about ABC, especially the Sturm und Drang regarding who finally ended up in the anchor chair. "Why, what Sturm und Drang?" you ask, impressed that I speak German. "I thought Elizabeth Vargas' pregnancy rendered her unable to maintain anchor duties and she stepped down voluntarily!" Yes, well, you would think that. Except turns out that's not how the cookie crumbled…as telegraphed by the title of Chapter 19: "Pregnant and Powerless."
It's something of a misnomer, because it wasn't Vargas' pregnancy that triggered the musical chairs-ing of anchors behind the ABC desk, it was Bob Woodruff's January 2006 injury in Iraq which rendered her suddenly the solo anchor — and prompted her to tell newsboss David Westin of her delicate condition, since a double-vacancy seemed pretty darned certain. Though GMA's Diane Sawyer and Charlie Gibson agreed to step in on the evening broadcast as a stopgap, when attention turned to a more permanent solution Gibson was not quite so easygoing. According to Kurtz, he was not sold on the double-anchor format in a 22-minute broadcast. If Sawyer got the gig, he'd be alone on GMA which didn't thrill him; his retirement was looming and he was happy enough to take it. Vargas, meanwhile, had no interest in swapping to the morning, telling Westin she found GMA "unwatchable." For Westin, ultimately, it came down to fish or cut bait:

Westin had to face the facts. Charlie Gibson was the best person he had to anchor the newscast, and Gibson would do it only on his own…Westin concluded that he could no longer keep his promise to Vargas. He had to do what was best for the news division.
So he signed Gibson for three years through the 2008 election. Only when that was in place did he tell Vargas:

"Elizabeth, I just think this is not going to work," Westin said. "I think it's best to just put in Charlie."

Vargas didn't say much. Gibson had played hardball, and he had won. The irony was that Westin had coaxed her into taking the job in the first place. All of her instincts had been to wait. She believed the previous fall that Gibson had deserved a turn at the job, should be allowed to do it for two or three years, and then she would have her turn. Now Westin had taken away her dream job after just five months.

But Vargas did not blame him. Westin had made the decision with a gun to his head. Who would have thought that Charlie, who was universally regarded as a nice guy, would play such a tough hand?
Kurtz goes on to write about Vargas' frustration and feeling of having gotten screwed, both by Charlie refusing to do anything other than a solo act and by ABC, who signaled to the world that she couldn't hack it alone by having her babysat by Gibson and Sawyer after Woodruff's injury:

Vargas now had to decide how candid to be with the press. She decided to be a team player. She would emphasize what was true, that the pregnancy had put a great strain on her and that she was relieved, on one level, to be freed from an impossible workload. Of course she had felt conflicted over that. But in claiming that she had made the decision, rather than having had her coveted anchorship snatched away from her, Vargas was playing along with an ABC cover story that bore no resemblance to what had actually happened.
Going back to the title, "Pregnant and Powerless," it bears repeating: The trigger for this shuffle was Woodruff's injury. It is, of course, an open question as to how Vargas' maternity leave would have been handled had Woodruff remained healthy. Would Saywer and Gibson have been called in as reinforcements in that case, or would he have anchored alone? Who knows, and who knows what would have triggered that either way (ratings, as we all know, are a fickle beast.) As the chapter delineates, Vargas was keeping a punishing schedule for a pregnant woman — 12+ hour days which included hanging around for three hours to update the news for the West Coast (which was keeping her from getting home to the kid she already had) and Westin was already looking ahead with worry at what she'd need to do when she got back from maternity leave ("When she came back from having the baby, there would be a whole new set of demands on her, including plenty of travel for the newscast. how could she handle that, and 20/20, and deal with her child and a nw baby?"). The ABC situation was highly unusual and difficult for all concerned, no question, but these are live issues and they are asked every time a woman of childbearing years ascends to positions of power. No pronouncements here, just something to grapple with. I'll leave the pronouncements to Diane Sawyer, who stopped by Vargas' office after this all went down to commiserate:

"I would like to come back in my next life as Charlie Gibson," Sawyer said. "We have both sat next to this man when he's thrown temper tantrums on the set. That never gets written up. Why is it we get written about and speculated about so much?"

They both agreed: because Charlie was a man. Gender still played a huge role in how network anchors were portrayed in the press. A male journalist might be viewed as demanding, while they were dissed as divas.
Incidentally, Gibson does not do West Coast updates, and the notion of traveling for the newscast is not a big part of Gibson's job description the way it had been for the two younger anchors. It was, according to Kurtz, the job Vargas had wanted, "had begged for, and could easily have handled." But it wasn't the job she got — or, in point of fact, the one she lost.
Photo credits: Gibson, Sawyer and Vargas.
Guest Blogger Rachel Sklar Rachel Sklar is the Media Editor at the Huffington Post and writes and edits the site's "Eat The Press" section. This post originally appeared on "Eat The Press."