Twenty eight year old intrepid Afghan MP, Malalai Joya, has just been suspended from Parliament for comparing warlords in power to donkeys. Joya is the youngest and most outspoken member of Parliament and has survived 4 assassination attempts for denouncing warlords, many of whom were funded at various times by the US government in the fight against the Soviets (1980s) and the Taliban (post-9-11).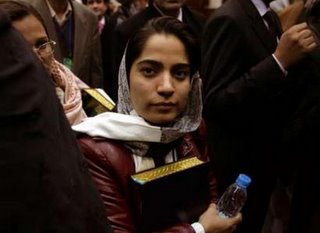 In a recent interview Joya said the country's parliament was like a "stable or zoo," and added, "this is a word that fits — a cattle house is full of animals, like a cow giving milk, a donkey carrying something, a dog that's loyal." The video of her interview was shown in Parliament and a majority voted to suspend her for the remarks, invoking a little known Article 70 of the Parliament that forbids MPs from insulting one another. [Click here for news about the suspension.]
Such words are quite typical for Joya who is the bravest person I have ever met. In 2003 she first publicly denounced the men at a Constitutional assembly which she attended as an elected delegate from her rural Farah province. For her actions she was lauded by her people and threatened by the warlords. Since then she has consistently criticized the warlords whose hands she says are "stained with the blood of my people." When I visited Afghanistan in 2005, this was a common refrain among ordinary Afghans. Malalai, according to journalist and author Ahmed Rashid, is "speaking for millions." During my visit I interviewed her before her 2005 bid for the Parliament. During the interview she told me, "Maybe one day they will kill me. But I will never be afraid."
In February 2006, my non-profit organization, Afghan Women's Mission, sponsored a US tour for her. Malalai had just been elected to Parliament and, unlike most politicians, was continuing to speak out and take risks after her election. A few months after returning to Afghanistan she was physically attacked by the warlord MPs and threatened with rape [read my WIMN Blog post here.] A few weeks ago she returned to the US for a small series of events in April organized by UCLA students and AWM volunteers. I noticed she was under greater pressure than ever before. The media in Afghanistan were trying to silence her, afraid for themselves. Instead of giving in to the pressure, she spoke out even louder, doing several hours of interviews with Orange County-based Ariana Afghan Television which broadcasts all over the world, including Afghanistan.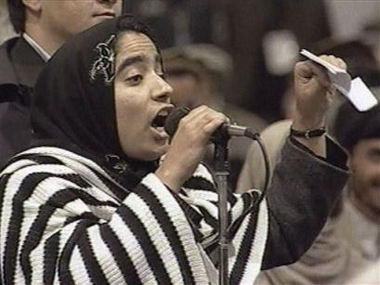 Now, just weeks after her return to Afghanistan, she faces this new hurdle. It is not clear what Malalai Joya's fate will be as a result of the Parliamentary suspension. All that is known is a statement by notorious warlord Yunus Qanooni that Joya's case will go to "court."
It is clear that the US's post-Taliban experiment in Afghanistan intended to fool Americans into believing that Afghan women were being liberated. We were convinced by the Bush administration and the mainstream media that "democracy" and "women's rights" were the new buzzword in Afghanistan. But the US government did several things that ensured women's political, economic and social rights would never be realized: they empowered the misogynist pre-Taliban warlords who now sit in government, they installed a pro-warlord puppet President into office (Hamid Karzai), and they have fought a futile war in the countryside against "Taliban remnants" that has achieved nothing but a legitimizing and strengthening of the Taliban. How could women possibly have any rights in such a situation?
Worse, the US mainstream media played up the Bush Administration's "feminist" propaganda instead of reporting what Afghan women themselves were saying. Immediately after the fall of the Taliban, the Revolutionary Association of the Women of Afghanistan (RAWA), issued a statement warning the US and international community against empowering the Northern Alliance warlords. But it was entirely ignored by the US mainstream media. Such a statement was far too inconvenient to report on at a time when the establishment was giddy with self-congratulatory remarks on defeating the Taliban, retaliating for 9-11, and "saving" Afghan women as a bonus.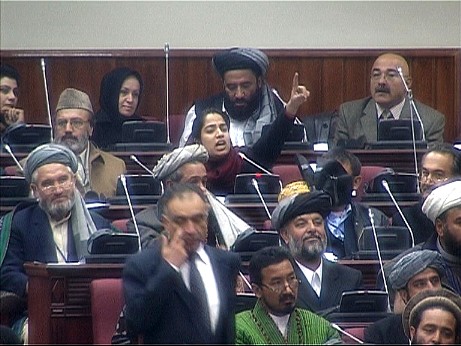 Today women in the Afghan Parliament have two options: they can remain silent and betray the people they are supposed to represent, thereby ensuring their personal safety. Or they can speak out in defiance of the blanket of silence surrounding the war criminals, and risk their lives like Malalai Joya. In such a context do words like "democracy" and "women's rights" have any meaning?
I wonder if the US mainstream media will connect the dots between Malalai's persecution and US policies of supporting the men that attack her. Based on past experience, I'm not holding out much hope.
Malalai is a hero to ordinary Afghan people. And I can see why. Each time I have met her I have wondered if it is the last time I will see her. She is aware of the danger she is in but refuses to back down. Her words are fiery and passionate, and come from a deep sense of despair and injustice that she, as a working class former refugee from a rural province in Afghanistan, has experienced all her life. She speaks out because she has no choice. To remain silent is equivalent to death.
***
Website for The Defense Committee for Malalai Joya: www.malalaijoya.com
Listen to my 2006 interview with Malalai Joya here: http://uprisingradio.org/home/?p=220
Listen to my 2007 interview with Malalai Joya here: http://uprisingradio.org/home/?p=1398